National Parks in Austria
Austria's six national parks offer visitors the chance to discover nature in its original, untouched state and to come face to face with scenic beauty.
What is a National Park?
National Parks are designated by the International Union for the Conservation of Nature (IUCN) based on strict criteria. In these spaces, preserving ecosystems is the number one priority. They also offer uniquely pristine surroundings to be enjoyed by visitors.
Austria's Six National Parks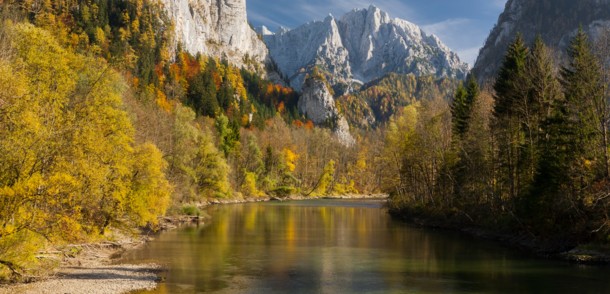 Facts & Figures
Carinthia, Tirol, Salzburger Land

1,000 – 3,798 m / 3,281 – 12,461 ft

1% bodies of water, 32% agriculture, 54% glaciers, scree corridors, cliffs, and heaths
1. Hohe Tauern National Park in Carinthia, Tirol, and SalzburgerLand
Austria's oldest and biggest National Park is known for its biodiversity: 50% of all Austrian animal species (10,000 in total) can be found here, including golden eagles, chamois, and marmots. The area's rich, beautiful landscapes include Weißsee Glacier World, Pasterze glacier (Austria's biggest glacier, where you'll catch an icy breeze even at the height of summer), and Europe's highest waterfalls, the Krimml falls.
5 Must-Sees at Hohe Tauern National Park
2. Kalkalpen National Park in Upper Austria
Located at the northern edge of the Alps, Kalkalpen (literally: Limestone Alps) National Park is known for its wild forests and crystal-clear mountain streams which are home to rare species of animals and plants.
Exploring the area on bike is a treat – and hikers will find hundreds of kilometres of trails. Park rangers can take you on guided hikes to explore the wilderness a little further.
Learn more
3. Donau-Auen National Park in Lower Austria
Located between Vienna and Slovakia's capital Bratislava, these wetlands are home to over 800 species of plants and animals.
Learn more
4. Neusiedler See-Seewinkel National Park in Burgenland
This steppe National Park in eastern Austria features sweeping reef-studded bodies of water, large meadows, and saltwater lakes.
Learn more
5. Gesäuse National Park in Styria
Established in 2002, Austria's newest National Park features impressive cliffs and crystal-clear mountain lakes.
Learn more
6. Thayatal National Park in Lower Austria
Unspoiled wilderness featuring thick forests, steep cliffs, blooming meadows: Explore along the Thaya river and spot a wildcat in its enclosure.
Learn more